Project Record Keeping An Important Step Of The 4-H Project Experience
The 4-H record keeping philosophy aims to teach youth how to keep records, which is an important life skill. Record keeping is an ongoing process that does not end when the 4-H year ends. Project leaders are encouraged to include project record keeping as part of the project meeting experience. A 4-H project is said to be complete for the year when project records are completed.
Youth are encouraged to select from a variety of alternatives to meet their individual record keeping needs and learning styles. The purpose of 4-H record keeping is:


To learn how to set goals, how to make plans of action, and how to decide how well you did (evaluation).
To learn the skills of record keeping and organization to use now and in the future.
To learn to communicate and summarize.
To learn responsibility by completing a task.
To evaluate information that will market personal skills through future resumes and application forms.

Listed below are several options for Atchison County youth to gain record keeping skills. One option introduced to 4-H members in 2015 is the simplified record keeping option. This option is unique to Atchison County. 4-H members desiring to enter project record keeping competition may opt to use the Kansas Awards Portfolio forms for both county and area/state competition.
The simplified records are form fill-able. A 4-H member may also choose to download the form and complete by pen or pencil. When completing 4-H project records, it is important to remember it is more information to share about your project experiences during the year is than listing awards received. The content of records is more important than the appearance of the records. Each option focuses on gaining record keeping life skills. Leaders and parents helping 4-Hers may feel more comfortable guiding 4-Hers to complete the Kansas Record-keeping Forms.
In the event that you should have questions regarding 4-H record keeping, do not hesitate to contact Atchison Extension Agents. If your 4-H Club or project group is interested in records training. contact our office.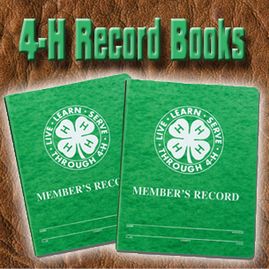 Simplified Record Keeping Forms For Atchison County Use
Note: The forms below should be form fill-able. Due to variations in browsers, it is best to download this file to your computer. If you are having problems, please contact us directly so forms may be e-mailed directly to you.
Forms For Beginners (Ages 7-8)

Forms For Juniors ( Ages 9-13) and non-competitive Seniors (Ages 14 & Older)
Kansas 4-H Record Keeping Forms (Option 2 Non-Simplified Record Keeping Forms)
These forms teach youth about basic record keeping. Some 4-H parents and grandparents might call these traditional forms a blast from the past as the format follows that of record books from yesterday! A record-keeping option to think about if you want to be recognized beyond the county level.
Kansas 4-H Project Award Forms (Only Required For Area and State 4-H Records Screening)
Do you have a goal being named as a Kansas 4-H project champion? Recording your 4-H involvement during the year, and using these forms will steer you in the right direction. To advance to area project screening, this form must be used.