4-H Records: The Important Final Step Of The 4-H Project Experience
We listened to your comments in 2019. We have created a few updates to the record-keeping process for the 2020 4-H year. Your 4-H project is said to be completed after your 4-H records have been turned in. When records are done, you are ready to start the new 4-H year!
To allow 4-Hers more time to complete their project records, the due date has been moved back from the October 1 date. Records will now be due to your 4-H club leaders on or before October 15. Club due dates may vary. Leaders will review your records. They may ask you to make additions/changes to better reflect your 4-H club and project involvement. This is an example of the 4-H way of "Making Your Best, Better". Club leaders will turn records to the extension office by October 19.
You will find the form-fillable records pages below. Be sure to download the form to your device and save the file with your own unique name. Example: Chris_Clover_Craft_project-records. Work from your saved form if you are completing the form electronically. Tip: Be sure to save and backup your file often so it is not lost.
While you can complete the forms online and even print the information, you risk losing your information if the internet should go down. You are unable to save your personal information using this method. You can also print the forms and then handwrite the information. 4-H records are not evaluated on record-keeping methods.
How do YOU start your project records?
After downloading records for your age group, you will start by completing the personal page. This page
asks for information about you and your 4-H involvement.
You will need to create only 1 personal page for all your projects. Some 4-Hers like to copy and paste and include with each project record.
You will sign this page when you have completed your records.
Your mom or dad should also sign this page when you are finished. They will probably read over your records and offer some suggestions. Parents enjoy supporting your 4-H work.
Your club leader signs your personal page, too. If you have created a personal page for each project, it is okay to have your project leader sign their name. Asking them to sign your book is a way to say thank you for all their help during the year. They enjoy reading and seeing how much you have GROWN IN 4-H this year. They will be glad to answer questions while you are working on your records. They might offer a few tips or suggestions when you share your records to be signed. Because they have volunteered many hours this year helping 4-Hers like you, don't forget to say Thank You for all their help.
It is sometimes helpful to see examples of how others have completed their personal pages. We have shared examples below. Older siblings or 4-Hers can share examples. Heck,it might even be fun to take a peek at mom or dad's records if they belonged to 4-H!
Extension agents-Ray and Diane-are also glad to answer your questions. They sometimes hold record book parties where 4-Hers learn about completing their 4-H records. Sign up if you would like to party! If asked, this year they will Zoom with 4-H families. They will be posting examples to the 4-H Facebook page, too.
4-H teens will assemble their 4-H records by filling out a separate personal page. KAP forms are used at the area and state level. At the county level, 4-Hers can use the generic record option. (If they are not interested in participating in 4-H competitive records judging or applying for 4-H state-level scholarships, they can use the form designed for 9-13-year-olds as another option.) Teens can also submit a KAP for their project record. Choose the best option for you.
Example: 4-Hers Ages 7 and 8
Example: 4-Hers Ages 9 To 13
Tips for Writing A 4-H Story
Records Flipgrid Links
4-H ID Information Guest Code: atcorecords2020guest
Click the Flip Grid Link then enter the Join Code atcorecords Use your student ID listed above to start your story
Simplified Record-Keeping Forms For Atchison County Use Only
The forms below should be form-fillable. Due to variations in browsers, it is best to download this file to your computer. If you are having problems, please contact us directly so forms may be e-mailed directly to you.
Forms For Beginners (Ages 7-8) Each Project should be in its own Record Book/Folder.

Forms For Juniors (Ages 9-13) and non-competitive Seniors (Ages 14 & Older). Each Project should be in its own Record Book/Folder.
Kansas 4-H Record-Keeping Forms (Option 2 Non-Simplified Record-Keeping Forms)
These forms teach youth about basic record keeping skills. Some 4-H parents and grandparents might call these traditional forms " a blast from the past" as the format follows that of record books from yesterday! A record-keeping option to think about if you do NOT want to be recognized beyond the county level.
Kansas 4-H Project Award Forms (Required For Area and State 4-H Records Screening)
Do you have a goal being named as a Kansas 4-H project champion? Recording your 4-H involvement during the year, and using these forms will steer you in the right direction. To advance to area project screening, this form must be used.
2020 Offers A Video 4-H Story Option More Project Record Information and Tips
Congratulations! You have just completed your 4-H personal page. You are now ready to finish your project records.
This year you will be able to upload your records electronically to share. You can also share a printed copy of your records if this is easier for your family. Another new feature is you will be able to verbally record your 4-H story rather than writing a 4-H story. For 2020, we will be using Flipgrid as the tool to accomplish this. You will simply use the prompts on the screen to record your 4-H story.

4-Hers ages 7 and 8 can also continue to use the form-fillable record to draw rather than write their 4-H story. Parents can take a picture of the artwork and upload it to the record electronically. A short handwritten story is another option.
4-Hers ages 9 and 10 can create an Abode Spark storyboard. It is suggested to create a storyboard about their overall club to upload. Next, they can reuse their fair project Flipgrid video to their 4-H records Flipgrid. It would be appropriate to add to their fair video by talking about their fair experiences and 4-H involvement after the fair. We will showcase examples. 4-Hers ages 11-13 should plan to verbally record their video 4-H story if they select the video story option.
Videos are not a project record requirement they are just another tool 4-Hers can use. 4-Hers are welcome to write a project story. Select the option they feel comfortable using.

You can also share your 4-H project pictures using Abode Spark and Flipgrip. Or they can be added to your records as added pages.
To assemble your electronic 4-H record book, you will be able to attach your completed project records to Flipgrid or as a PDF portfolio. (More instructions coming, soon!)
Records can continue to be printed and submitted in a paper format. To avoid confusion, we ask that records not to mix paper and electronic formats.
If you did not save a copy of your fair video, contact the Extension Office. Also, contact us to learn how to re-use the fair project videos for records.
Electronic records will be shared for evaluation purposes only. They will not be posted online for public viewing.
Click here to explore the oral 4-H story option. The entry code is atcorecords. Be sure to check out the 4-H story media links to learn more about 4-H story tips. Note: We need to enter every 4-Her's name and passwords to the roster; you are currently unable to record. Meantime, explore the 4-H resources from across the USA. Tip: Call/e-mail if you are ready to record now and we will add your name to the list,.
Remember that each fair project video talking about/sharing project skills is considered a 4-H demonstration/talk for 2020.
More tips added weekly-check back often. We will provide additional examples.
Record-Keeping Tips
Copy your project goals from your Project Meeting Attendance Form. You may add additional goals.
Older members (9-18) should list project learning goals, project leadership goals, & community service goals.
Hint: Section II of your Project Meeting Attendance Forms, has some learning experiences already recorded to get you started.
Remember to include any talks given at club meetings, County Day, or fair.
Your participation in Consumer Judging & Livestock Judging can be listed as a project learning experience.
A 4H Story should include information about your club involvement, attendance at 4H camps & events, and even project failures along the way. The suggested length is at least 6-10 sentences for seven-year-olds. Suggested 3-5 short paragraphs in length for eight-year-olds. A story that highlights the 4-Her, 4-H year, and includes one-two project-specific paragraphs. Two to three pages for 9 year-olds which focuses on both the project (one page) plus general 4-H (one page) involvement. Continue growing in 4-H each year, plan for 3 to 4 pages for project stories for 11-13 year-olds plus a separate 4-H general story. State guidelines for teens over age 14 is a 5-6 page project-year story and a separate overall general 4-H story of equal length. Note: Local Atchison County records forms do not follow these Kansas 4-H guidelines. To aid 4-Hers, story prompts are included within the records. Older 4-Hers should plan to provide several sentences of detail to answer each question.
Instructions for Assembling Project Records for Judging
An official 4H Record Book Cover may be purchased for $3.00 from the Extension Office.
This is a great way to organize your 4H records, during your 4H Career. Reminder: 1st Year 4H Members, remember to claim your FREE record book cover
Personal Information pages only need to be completed o

ne time.

For more than one project, complete the "Additional Project Pages" for your age group.
For judging purposes, each project should be in its own folder/record book/report cover. Or submit your record electronically via Flipgrid or as a PDF portfolio. (Call the Office if you have questions)
Records are due to the Extension Office by October 19. (Note: Your club may require an earlier deadline)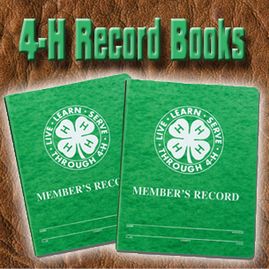 Project Record-Keeping Whys For Parents and 4-H Volunteers
The 4-H record keeping philosophy aims to teach youth how to keep records, which is an important life skill. Record keeping is an ongoing process that does not end when the 4-H year ends. Project leaders are encouraged to include project record keeping as part of the project meeting experience. A 4-H project is said to be complete for the year when project records are completed.
Youth are encouraged to select from a variety of alternatives to meet their individual record-keeping needs and learning styles. The purpose of 4-H record keeping is:


To learn how to set goals, how to make plans of action, and how to decide how well you did (evaluation).
To learn the skills of record-keeping and organization to use now and in the future.
To learn to communicate and summarize.
To learn responsibility by completing a task.
To evaluate information that will market personal skills through future resumes and application forms.

Listed above are several options for Atchison County youth to gain record-keeping skills. The simplified record keeping is one option. This option is unique to Atchison County 4-H members desiring to enter project record keeping competition may opt to use the Kansas Awards Portfolio forms for both county and area/state competition.
The simplified records are form-fillable. A 4-H member may also choose to download the form and complete it by pen or pencil. When completing 4-H project records, it is important to remember sharing your project experiences during the year than it is listing awards received. The content of records is more important than the appearance of the records. Each option focuses on gaining record-keeping life skills. Leaders and parents helping 4-Hers may feel more comfortable guiding 4-Hers to complete the Kansas record-keeping Forms.
In the event that you should have questions regarding 4-H record keeping, do not hesitate to contact Atchison Extension Agents. If your 4-H Club, family, or project group is interested in records training, contact our office.