4-H Projects
4-H projects are tools for teaching young people life skills by developing their interests in certain areas. This is done through completing the following steps: 1) setting goals for learning, leadership, and citizenship, 2) planning and carrying out goals; 3) reflecting on experiences, and 4) keeping records about each project area. Upon completion of these 4 steps, the 4-H project is said to be complete. It is possible to complete a 4-H project without a fair exhibit. Exhibiting at fair without completing the steps above does not represent the goals of the 4-H program.
4-H project enrollment assists youth to value and practice service to others. In 4-H we pledge our hands to larger service. In Kansas 4-H we say one of our life skills is developing a concern for the community. One of the eight essential Elements of 4-H is the Opportunity to value and practice service to others.
• Youth need to feel their lives have meaning and purpose.
• By participating in 4-H community service and citizenship activities, youth connect to communities and learn to give back to others.
One of the "big four" (BMIGS) is Generosity – Community Service is a major contributor to meeting this. In the book, The Good Teen (Based on the national multi-year 4-H study by Dr. Richard Lerner) the author talks about the Concern for Community and that 4-H develops this better than other youth development programs. The Positive Youth Development C's, (five + one) are Competence, Confidence, Connection, Character, Caring, plus Contribution. 4-H Community Service strengthens all six of the C's. Older teens are asked to provide leadership in their project work as it contributes towards supporting positive youth development skill development cited above. On individual project pages, we have tried to share potential community service and leadership examples to serve as idea starters.
The Danish system of judging is used in the 4-H judging process; the youth's exhibit is compared against a project standard. The purpose of the judging experience is to provide feedback regarding project skill mastery. All 4-H exhibits start at the red ribbon level. A red ribbon signifies that the project is average for the 4-Her's age and skill level. There should be no shame in receiving a red ribbon; rather in the 4-H world, it means that the 4-Her is learning new skills and simply needs additional time and practice to master the new skill being learned. Simply entering an exhibit with the single goal of receiving a purple ribbon, that does not require learning new skills or demonstrate achieving skill mastery from the previous years, is not practicing the 4-H motto "To Make The Best, Better." Some youth and their parents who prefer to focus only on competition rather than life skill development may be better served by other youth programs. The true purpose of a 4-H exhibit is to provide a representation of project work during the entire 4-H year.
| | | |
| --- | --- | --- |
| Discovering 4-H (B) | Sew Fun (B) | My Favorite Things (B) |
| | | |
| ABOUT 4-H This project book is for young first-year members and others who want to explore the broad array of topics offered by 4-H. Any member in need of an easy-to-read, easy-to-use introduction to animals, health, food and nutrition, nature, insects, plants and soils, machines and tools, recreation, and clothing benefits from doing this project, which is easily completed in one year. | CLOTHING AND TEXTILE SCIENCE This project will have you sewing in no time! Members of any age learn basic sewing skills with an easy introductory project --fully elastic-waisted skirt, shorts, pants, or capris. This project can be repeated, but good next projects are sundresses and jumpers. | CREATIVE AND LEISURE ARTS/COLLECTING Are you interested in creating a personal collection? Want to take a collection you already have to the next level? Learn about various types of collections, the ins and outs of the collecting process, and how to best display your items. For members of all ages. |
| | | |
| --- | --- | --- |
| The Writer in You (I) | Get Started in Art (A) | Family History Treasure Hunt (A) |
| | | |
| CREATIVE AND LEISURE ARTS/WRITING Find the motivation you need to start or continue your exploration of the art of writing. Explore why to write, where to write, where to get ideas, theme, character, plot and setting, word choice, imagery and dialogue. Keep it all in one place to create a portfolio each year. | CREATIVE ARTS/FINE ARTS Explore the basic elements of visual art through activities on color, line, space, balance, and more, and then complete your own work of art. Ceramics, drawing, painting, sculpture, printmaking, design, and crafts are all possibilities. Appropriate for members of all ages. | CREATIVE ARTS/GENEALOGY This project book guides you through 6 years of activities! Discover your family history as you go on a treasure hunt for jewels of information such as interesting relatives, special events, and curious stories. The records you create will last a lifetime. |
| | | |
| --- | --- | --- |
| Let's Start Cooking (B) | Yeast Breads on the Rise (A) | Racing the Clock to Awesome Meals (I) |
| | | |
| FOOD AND NUTRITION This project takes a fresh look at basic baking skills. You'll learn about kitchen equipment and food prep, and how to read recipes and measure ingredients. Then you'll tackle how to slice and dice food, and how to cook in a microwave oven, on the stove, and in a conventional oven--all while keeping safety in mind. | FOOD AND NUTRITION Master the art of baking delicious yeast breads. Learn the principles of yeast bread preparation, and learn how mixing techniques determine product character and quality. | FOOD AND NUTRITION With a focus on the knowledge and skills needed to prepare quick, nutritious, low-cost meals, this project builds on basic food preparation skills so you can tackle difficult recipes while being creative with ingredients. The 7 activities and related recipes can easily be completed in one year. |
Your Thoughts
Matter (A)
The Laundry Project (B)
It's My Home (B)
HEALTHY LIVING What does mental health mean? How many people are affected by mental health issues such as anxiety and depression? Be part of the solution by learning the answers to those questions and more. Intended for advanced-level youth who are interested in learning more about mental health, why it is important to overall well-being, and steps that promote understanding and action. This project is not intended as a resource in crisis. If you or someone you know is struggling with a mental health issue, please seek adult or professional help immediately.
HOME LIVING Everyone loves clean laundry but how do you do it? Learn about laundry machines and products, how to be environmentally friendly in the laundry room, and how to sort and clean laundry items. Experiment how heat affects different types of fibers too! For members of all ages with no experience in doing laundry.

HOME LIVING You can be a big contributor to your household kn so many ways. Why not do so AND keep your own sense of style? This project covers basic design elements, organization, upcycling, and service learning. All the activities can be done with your excellent decision making, good taste,and big heart.
| | | |
| --- | --- | --- |
| Ohio Birds (X) | Science Fun with Kitchen Chemistry (B) | Not Just knots (X) |
| | | |
| NATURAL RESOURCES/THE NATURAL WORLD Observe and identify birds with bird feeders in your yard and on field trips to see the many benefits our feathered friends provide. This project book intended to be used for two years. | STEM/CHEMISTRY Join the Terrestrial Alien Defense Academy and figure out how to outsmart the aliens by doing experiments in your kitchen. Learn about what matter is and how it changes form; explore the different properties of matter; find out about acids and bases; and discover hoe everyday items and kitchen ingredients can be used in cool tests. | STEM/KNOTS Learn to make 14 different simple knots, bends, and hitches. Remember what they say--practice, practice, practice! Then show what you have learned with a capstone project of your choosing. Sample capstone projects are available at ohio4h.org/knots |
| | |
| --- | --- |
| Horseless Horse (B) | Science Fun with Physics (B) |
| | |
| ANIMAL SCIENCES/HORSES Learn about horses without owing one. Over 20 different subjects are covered in easy-to-use worksheets. Written for the beginner but suitable for members of all ages. | STEM/PHYSICS Let your inner scientist uncover the mysteries of physics at play in daily life. The amazing magician Franco Newtoni is your guide as you try each experiment. You'll see the forces of nature, energy, and the power of physics at work--or is it magic? |

PROJECT SKILL LEVEL
Projects above are listed by code, title, and skill level. Skill levels for projects are defined as follows:
All Levels (X)—A project appropriate for all skill and age levels.
Beginning (B)—A beginning-level project for members with little or no experience in a project area, or 8 to 10 year olds.
Intermediate (I)—An intermediate-level project for members with some experience in a project area, or 11 to 13 year olds.
Advanced (A)—An advanced-level project for members with a lot of experience in a project area, or 14 or older. County fairs and the state fair often have age requirements that are different than those for project enrollment. When participating in a fair event, be sure to review the related guidelines.
Michigan 4-H Project Snapshot Sheets
March 2, 2015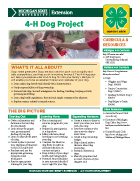 4-H projects provide youth with the opportunity to build life skills that may be applied to future career choices. The 4-H snapshot sheet series covers what 4-H'ers can learn from projects, ways to get involved and resources for learning more. (2 pages per sheet, 2011-2018)