Walk Kansas March 18-May 12, 2018
Grab your walking shoes and celebrate healthy living
It is time to kick off Walk Kansas 2018! We are looking forward to another fun Walk Kansas season and encourage you to tell others about Walk Kansas. Here are highlights:
Three Challenges
Each team of six will choose a challenge to work toward:
Challenge 1: 8 Wonders of Kansas (2 1/2 hrs of activity per person/week)
Challenge 2: Cross Country (4 hrs activity per person/week)

Challenge 3: Little Balkans to Nicodemus (6 hrs of activity per person/week)
Take the first step – registration
Registration Opens February 18th
To register online: Check out the Walk Kansas Leaderboard!

If you already have a team, wait for your team captain to start the online registration process. You will receive a message by email inviting you to join Walk Kansas and complete online registration. The team will be identified by your captain's name at first. After the team is signed up the captain can add the name your team chooses.
Don't have a team yet? You can register online as an individual. Go to www.walkkansas.org and click on "My Walk Kansas"; then click the yellow Register box. Complete the required personal information.
To register with paper forms:
Complete the registration form provided by your captain or download the Captain's Packet. Registration fees and apparel items may be ordered online or paid by check payable to Atchison County Extension. Please note online prices may be slightly higher due to the cost associated with the convenience of electronic payments.

Discover the 8 Wonders of Kansas!
WalkKansas would like to thank Marci Penner and the Kansas Sampler Foundation for their partnership this year. Challenge trails in the program feature the 8 Wonders of Kansas and more!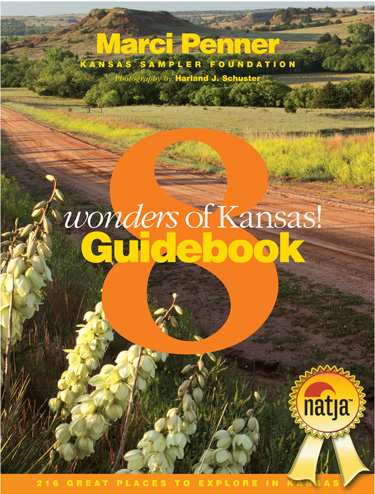 The Kansas Sampler Foundation's mission is to preserve and sustain rural culture. The 8 Wonders of Kansas contest series was organized by the Kansas Sampler Foundation to inspire awareness of the beauty and value in Kansas, and to encourage travel. After the overall 8 Wonders of Kansas contest, the eight elements of rural culture were featured in their own contest. The contests ran from 2007-2010 and more than 100,000 people voted. Once the contests were concluded, the Foundation hired Harland J. Schuster of Morrill Kansas to photograph each of the 216 places in the contest. The result was a beautiful 272-page, 9 x 12" book featuring Schuster's images and Marci Penner's descriptions of 216 special places in Kansas. www.8wonders.org.
Choosing the 8 Wonders ? This map features 216 winners and finalists including the ones in Atchison KS ! Check it out ! 8 Wonders of Kansas Map
Discover the Amelia Earhart Historic District in Atchison KS !